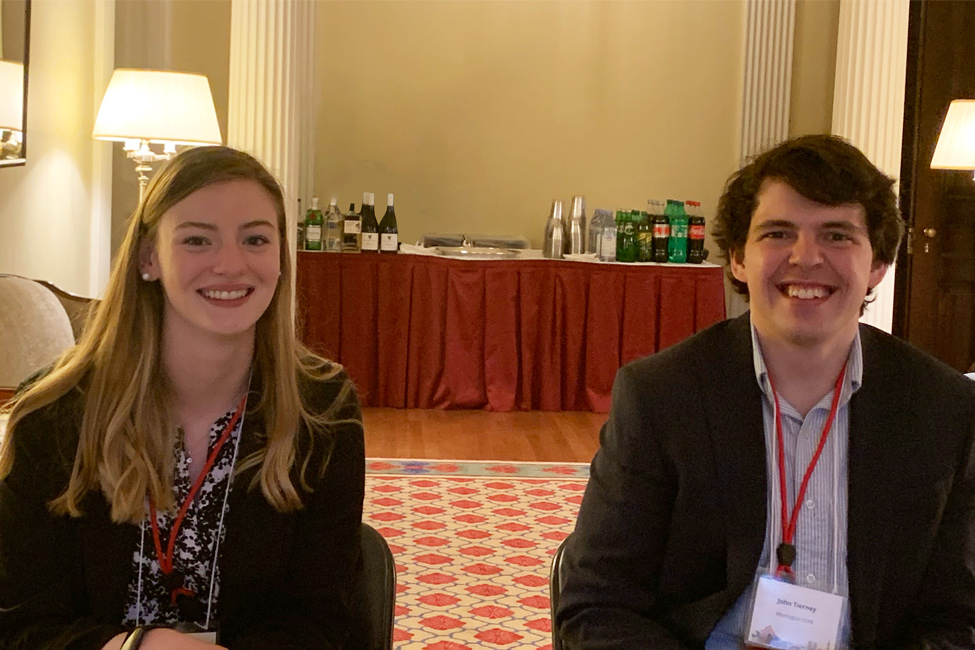 We were lucky to have a group of excellent interns join our team this spring. Although all of them had to abruptly leave Washington DC in the middle of March due to the unfolding pandemic, all of them resumed their internships remotely and continued to work with us until late April.

Washington CORE is invested in supporting the next-generation of policy experts and business leaders, and continues to host interns from across the United States and around the globe. Below are actual voices from our Spring 2020 interns sharing their experiences and lessons learned. We hope to facilitate more of these experiences as we prepare to move our Summer 2020 program entirely online to support the social distancing guideline.
"I spent the spring semester of my junior year interning at Washington CORE three days a week. Throughout the semester I had the opportunity to attend a reception event, conferences in D.C., and research topics ranging from sustainability to trade deals. I had the pleasure of working on a variety of topics throughout my time at Washington CORE. Each project came with the opportunity to research a subject I was not familiar with, ensuring each day I learned something new that I had not known before. Interning at Washington CORE has sharpened my communication, writing, and policy analysis skills in a professional setting. I am confident the skills I have learned during my time at Washington CORE will assist me in excelling in my professional endeavors in the future." – Christina Geddes, Siena College
"This past semester I had the great fortune of interning at Washington CORE where I was able to grow professionally as well as expand my knowledge on public policy. As an intern at Washington CORE, I was able to improve my research and writing skills through daily assignments as well as through the guidance of my supervisors. Furthermore, I had the great fortune of going to a wide variety of events including several committee hearings at the Capitol on an array of issues. I would recommend this experience to anyone that wants to be intellectually challenged and has the desire to learn about public policy." – Joseph Hershberger, Siena College
"My time at Washington CORE was one of the highlights of my study abroad life in Washington DC. The various projects that I took part in helped me in different ways. Research tasks assigned by my supervisor were conducive to building up my knowledge that I absorbed from college coursework. Whereas, cutting-edge technology in the construction industry was a topic that I had no prior knowledge of and thus enabled me to broaden my horizons. Conducting professional research in both English and Japanese was challenging, but also intriguing. Each project was assigned with clear goals and was accompanied by valuable feedback. Interning at Washington CORE was crucial to developing my writing skills and acknowledging my weaknesses. I will make the most of what I have learned at Washington CORE to pursue my future goals." – Haruki Nakagawa, Waseda University
"At Washington CORE, I was assigned to work on a broad range of research and writing projects. Projects often consisted of preparing memos summarizing research into specific markets, companies or policies. Topics ranged from financial privacy regulations, global sustainable development initiatives to Japanese biotechnology innovations. It was challenging yet exhilarating to produce detailed reports of industries I had limited prior knowledge of. However, I found my confidence vastly develop as I was thrown into unfamiliar roles, and my research and writing skills exceptionally improved. Alongside written tasks, I had the opportunity to attend a Congressional Hearing that led me to the heart of Washington DC.
The quality of supervision was excellent as supervisors were available to help interns and give feedback on their performance. Supervisors ensured that interns were consistently preoccupied with projects and felt valued by the company. There was extra care taken to regularly check in with interns and show appreciation through lunch, coffee breaks or kind emails. My internship at Washington CORE has been a great representation of my experience at Washington DC as it has provided me with great professional and academic development, placed me outside of my comfort zone and presented me opportunities I had previously never considered. I greatly recommend this internship to those interested in honing their research and writing skills, as well as looking to gain a broad knowledge of markets and a sense of international business." – Kirtana Sendyl, Scripps College
"I have learned a great deal from Washington CORE's internship program. Research was diverse and engaging. Projects were independently driven, but analysts provided guidance and advice whenever I hit a roadblock. Furthermore, the work was always focused on the research. Tasks were never menial; I always felt as if I was a partner in research instead of a subordinate. My professional writing skills have improved greatly, and my understanding of public policy has become much more robust.
Washington CORE was more than accommodating for my professional needs. The internship coordinators worked around my academic schedule, and the staff were proactive in my professional development. I was always pushed to do my best, but I never felt like I was under an unfair amount of pressure. They treated me like a professional when it came to the work and a student when it came to time. I will always think fondly of my time at Washington CORE, and I implore anyone interested in policy research to apply to the program." – John Tierney, University of Georgia