Washington CORE L.L.C. welcomes candidates who are prepared to work in a self-directed, learning-intensive environment. In return, you will gain exposure to cutting-edge technologies, explore their impacts on business and policy, and help our clients achieve smart growth by leveraging your knowledge and analytical insights. Candidates are expected to have a college degree at the minimum, though a graduate degree is preferred. While it is helpful for candidates to have coursework or experience relevant to our primary consulting areas, it is not essential. However, we place a strong emphasis on superior writing abilities, analytical excellence, and well-developed research and interpersonal skills.
To apply, please send a cover letter and resume to jobs@wcore.com. Please specify which position you are applying for.
Research Analyst
Full Time/Part Time
Primary Duties
Design – Develop research methodologies and design research plans and surveys
Research – Conduct thorough secondary research using various online sources
Interview – Perform surveys and interviews with key stakeholders to understand and report on policy trends and business insights
Analyze – Evaluate research findings and integrate data and insights
Report – Produce accurate in-depth reports that summarize research findings, analysis and recommendations
Present – Make effective presentations of key findings to clients and team members
Primary Duties
Research – Conduct online research as well as interviews with experts in various fields via phone and in-person meetings
Participate – Attend and write reports on congressional hearings, think tank seminars, and trade association conferences
Write – Summarize research findings and produce in-depth reports • Brief – Brief research & interview findings to team members
Coordinate – Assist project teams with project logistics , project execution & management
Administration / Office Assistant
Primary Duties
Knowledge of basic software such as Microsoft Word, Excel, and PowerPoint
Experience of

administrate

operations
Positive, and have a challenging spirit with a communication skills
Understanding of Japanese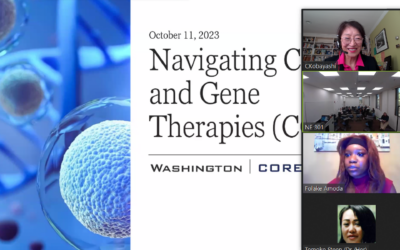 On October 11, 2023, Washington CORE proudly presented two lectures to the students enrolled in Professor Tomoko Y. Steen's graduate seminar, "Science and Technology in the...
read more